Dealing With Neck or Shoulder Pain?
Get Access to Our FREE Posture Support Class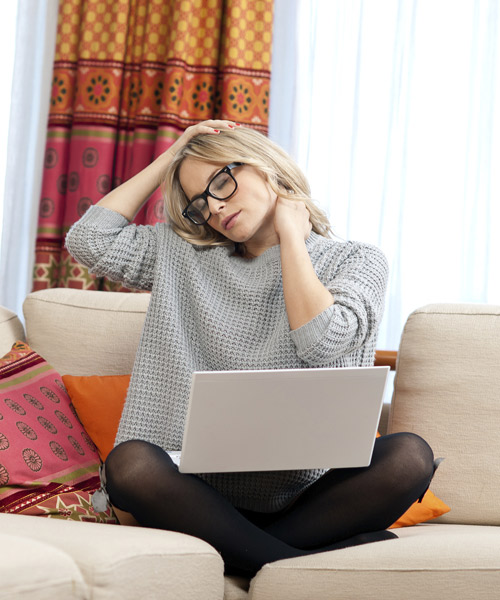 Let's face it…we live in a world where technology isn't going away anytime soon. In fact, every day, we're spending more and more time behind a desk, on a computer, and scrolling through our phones. All of these things lead to something known as technology neck (tech neck).
Tech neck happens when our neck isn't being rightfully supported by our shoulders due to improper posture and weak muscles in the upper body. For every additional degree forward your head is carried on your shoulders, an extra 10 pounds of weight is added to your neck. It's easy to see how detrimental this can be to your health!
Thankfully, you can learn how to overcome tech neck and the painful symptoms it can leave you with by signing up to watch our free posture support class.
Symptoms of Tech Neck
Do any of the following apply to you?
Frequent headaches
Sore or tense neck
Painful shoulders
Jaw pain
Poor sleep
Emotional stress
Decreased Energy
Brain Fog
Surprisingly enough, all of the symptoms mentioned above can occur in people suffering from neck and shoulder problems.
What You'll Learn in Our Class
In this one-hour video class, you'll learn how to overcome neck and shoulder pain by opening up your chest as well as strengthening and lengthening your muscles.
We'll go over specific stretches and exercises and show you exactly how to do them in the comfort of your own home. This class was designed to be broken apart so you can do bits and pieces at your desk or as a full workout!
Sign up for our free class by filling out our form below. You'll get access to it right away.
Questions? We're Here for You
Have questions? We're here to help. Contact us today to learn more about neck and shoulder pain or learn about our other natural health services. We look forward to speaking with you.

Posture Support Class Awaken Chiropractic & Wellness Center | (405) 888-8046